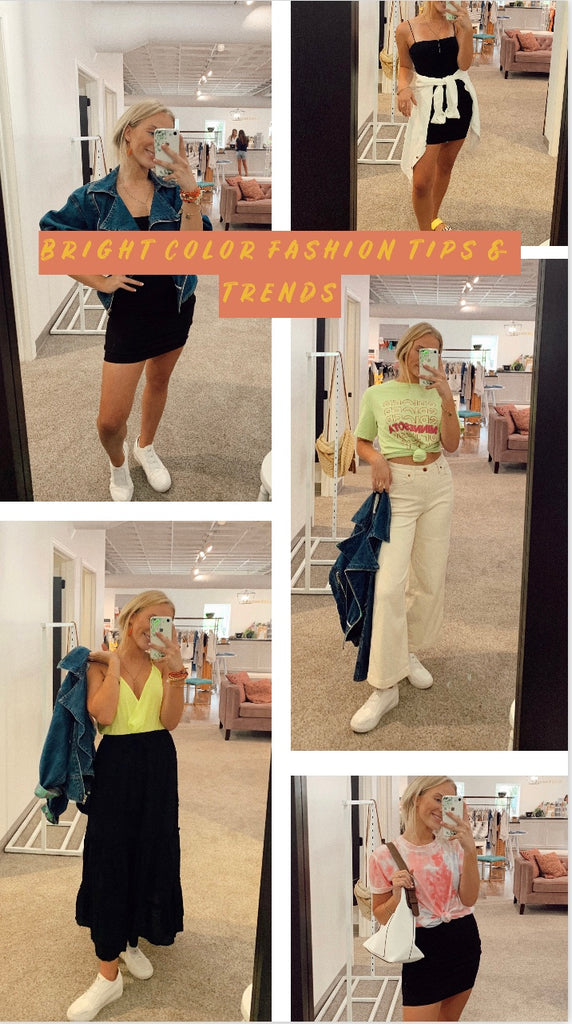 Ever wonder how to style bright color fashion, or how to fit it in to a normally neutralized wardrobe? We, the girls at UE, are here to help provide some unique ways to put together a statement outfit with the usage of lively and energetic colors. The main factor many individuals struggle with when it comes to dressing in bright neon, is the false mindset that one may not be able to pull it off. Today, we are going to change that mindset and create a layout of spunky outfit ideas for you to rock the next time you decide to make a bold statement. 
As you may know, vibrant colored articles of clothing boldly entered the world of fashion in the 1980s. Along with this, came the iconic fashion trends of high waisted jeans, scrunchies, mullets, and ripped knees. As you may have noticed, each one of these fashion trends has decided to make a reappearance either in the last couple of years, or today in 2020. At UE, we are in love with the idea of mixing upcoming fashion trends with the pre-existing ones. Most of the following style tips and suggestions are inspired by these iconic trends and altered to meet the standards of today's top trends as well. We hope these suggestions encourage individuality, introduce ideas, and inspire each and every one of you!
#1: Neon Graphic Tees [locally inspired & unique to UE]
My first style selection was a beautifully bright Spicer graphic tee, provided in neon green or pink, paired with a classic high waisted flare jean. Talk about bringing it back to the 80s! With a bold graphic tee such as this, it's incredibly simple to pair it with any form of jean to neutralize the overall brightness. Flare jeans add just the right amount of sass for a casual day to day outfit with white sneakers, or with a pair of statement heels for a night on the town. Subtlety is key, when it comes to bringing in new styles to your fashion go-tos. Graphic tees are the perfect way to slowly introduce the idea of bright neon colors into your wardrobe, without fully committing to a style change. 
The next outfit I selected includes the Bay Bodysuit in neon lime, paired with a few funky orange accessories and a dainty ruffle midi skirt. The fitted top and flowy bottom provides dimension to any outfit, hugging the BEAUTIFUL curves of our bodies! This blouse inspired bodysuit contains the absolute best amount of neon green, but is dressed down a bit while paired with a classic denim jean jacket. A jean jacket is pretty much always a sufficient choice when one wants to dress down an outfit or add just a bit more of a casual but perfectly put together vibe for the day. In addition to this, I added the neon orange accessories inspired by the 80s, for an overall spunky look.
Accessories are my favorite way to switch up an outfit when it comes to the overall goal of my fashion for the day. When it comes to bold statements supported through bright colors, I tend to simplify the rest of my outfit so the main details are focused on. With this selection, the Petra Bodycon dress in black fits so perfectly with the neon orange accessories. The color black provides a put together, slimming, and simple way to support the energy of the accessories. As you may have guessed, paired with my favorites: a jean jacket and white sneakers. This is such a dainty darling outfit, perfect for any outing when it comes to making a statement on this fashion trend.
In this style selection, I featured the Petra Bodycon dress yet again, because it is the perfect basic for layering, accessorizing, and pairing with bold statement articles of clothing. In the top image, I decided to show you guys how this dress can be paired with an incredibly bold shoe, as well as layered in the bottom image with a neon tie dye tunic. Traditional patterns and neon colors, as shown in the sandal, is another great way to make sure the outfit is unique. Dress these styling tips down with simple gold jewelry, or add some more spunk with an additional neon statement earring. The best part about styling an outfit around the idea of neon colors is the variety of layering and pairing available to make the fashion statement official. 
My final styling suggestion for including bright color fashion into your daily wardrobe, is the fun idea of a tie dye matching set for a day on the go. Whether you are running errands around town, meeting friends for brunch, or posing for a photoshoot, these matching sets are the cutest way to include a variety of energetic colors to your fashion palette. As comfy as this set is, I am warning you that you may never want to take it off again! Quickly add some gold hoops, a white denim bomber jacket, and throw your hair in a bun to successfully achieve the fashion statement of a lifetime. 
Here at UE, we would LOVE to see how you style your wardrobe including these beautifully vibrant colors. Be sure to include your own sense of uniqueness and positivity to the styling of upcoming or iconic fashion trends. 
Remember, be creative. Be positive. Be unique. Be YOU!
Chloe Grace & the UE girls