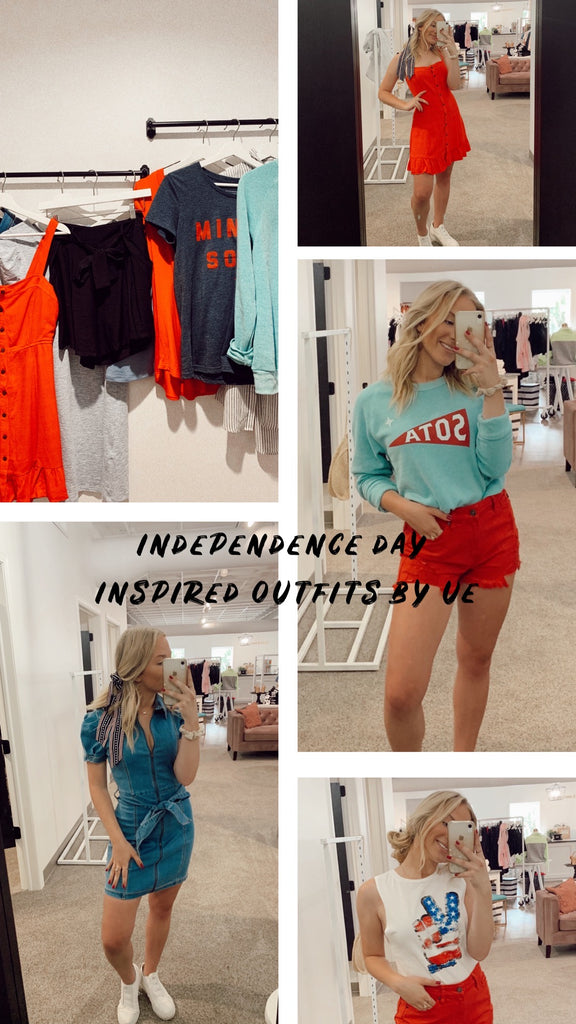 The fourth of July weekend is approaching, and we the UE girls could not be more excited for the festivities! With new arrivals daily, this week's pieces are the best for going out with friends, staying in with family, or soaking up the sun for a day at the lake. Even though this year's Independence Day celebrations may be different than any other, we still cannot wait to show everyone some of our favorite outfit ideas for the fun filled days ahead! Whether you like to style with jean shorts and a graphic tee for casual vibes or with a darling dress and a statement earring, we have the ideas for you!
Our newest, "Independence Dress" is the perfect go-to for the fourth. With its ruffled seams, buttons down the front, dainty flow, and high comfort level, this simple but sweet dress is the best item for a day out on the town. I chose to dress it down with a simple white sneaker, however, it could easily be dressed up with a black mini heel and gold jewelry with more of a statement. The fitted top and bottom with more of a flow accentuates body types and adds a 'babydoll inspired' look. Head into the weekend with a pop of rosy red and make a daring statement.
We also decided to pair the Independence Dress with our American Flag scrunchie and the Koa top. As you may have seen in our last blog post, the Koa top has tons of versatility when it comes to how you can wear it. Whether you want to style it as a swimsuit coverup or as an oversized add-on to a dainty summer dress, this is the top for you. With its slimming black vertical stripes, this top is the best to pair with the bright and lovely, Independence Dress.
#2: Rosie High Rise Shorts [red] *in store exclusive*
For those of you wanting to style jean shorts for the weekend, this outfit is for you! Our favorite way here at UE to style jean shorts is with a graphic tee/sweatshirt. These high rise shorts are the perfect pair for adding to a graphic tee, or more of a dressy blouse. Once again, I paired this outfit with some simple white sneakers and tucked the sweatshirt in for more of a casual vibe. Our Valley Unisex Crewneck consists of the best design for a festive fourth of July weekend look. The sleeves on this sweatshirt can be easily rolled up, a great way to change the style of a simple crewneck. 
Secondly, I paired the darling jean shorts with a rockin' fourth of July graphic tee! If this outfit doesn't scream Independence Day, I'm not sure what does. In order to dress this outfit up a little more, we would recommend some gold hoops and a few other statement jewelry pieces. We are loving the perfect amount of stars and stripes included in this lighthearted outfit.  
Last but not least, is our sweet and chic 'Danny Denim Dress' in blue. Paired with a white sneaker and the American Flag scrunchie for detail, this outfit is adorable for upcoming July festivities. Some of our favorite details on this piece include the dainty tie feature in front, slimming seams, the bubbled shoulders, a detailed collar, and the functional zipper. As more of a fitted style, this dress hugs those beautiful curves, (in the BEST way)! Not only is this piece amazing for a day this coming weekend, but also a super adorable dress to have for a casual day running errands or a night out with the girls. Just add some jewelry, a statement heel, and you are set!
We can't wait to see all of you show off your beautiful selfs in YOUR favorite fourth of July outfits this weekend! Make sure to style with creativity, positivity, and of course a smile. 
Be creative. Be positive. Be unique. Be YOU!
xoxo,
Chloe Lykken & the UE girls